What's New
Our objective is to provide the best user experience. Here we'll list our latest updates to keep you posted on what is happening on our development front.
Please send us feedback or suggestions to support@whenavailable.com
Sep 2023
Duplicate polls
We are excited to announce a new feature that allows you to duplicate polls! This means that you can easily create a new poll based on an existing poll. This can be helpful for a variety of purposes, such as creating a poll with the same date/time options but for different audience.
To duplicate a poll, simply go to the poll that you want to duplicate and click on the Duplicate poll link in the poll setting menu. You can then make any changes that you want to the new poll.
This is a Premium feature.
Aug 2023
Better Table View
We've made the table view on desktop wider to make it easier to read. The table now utilizes more of the screen width, so you can see more date and time options at once.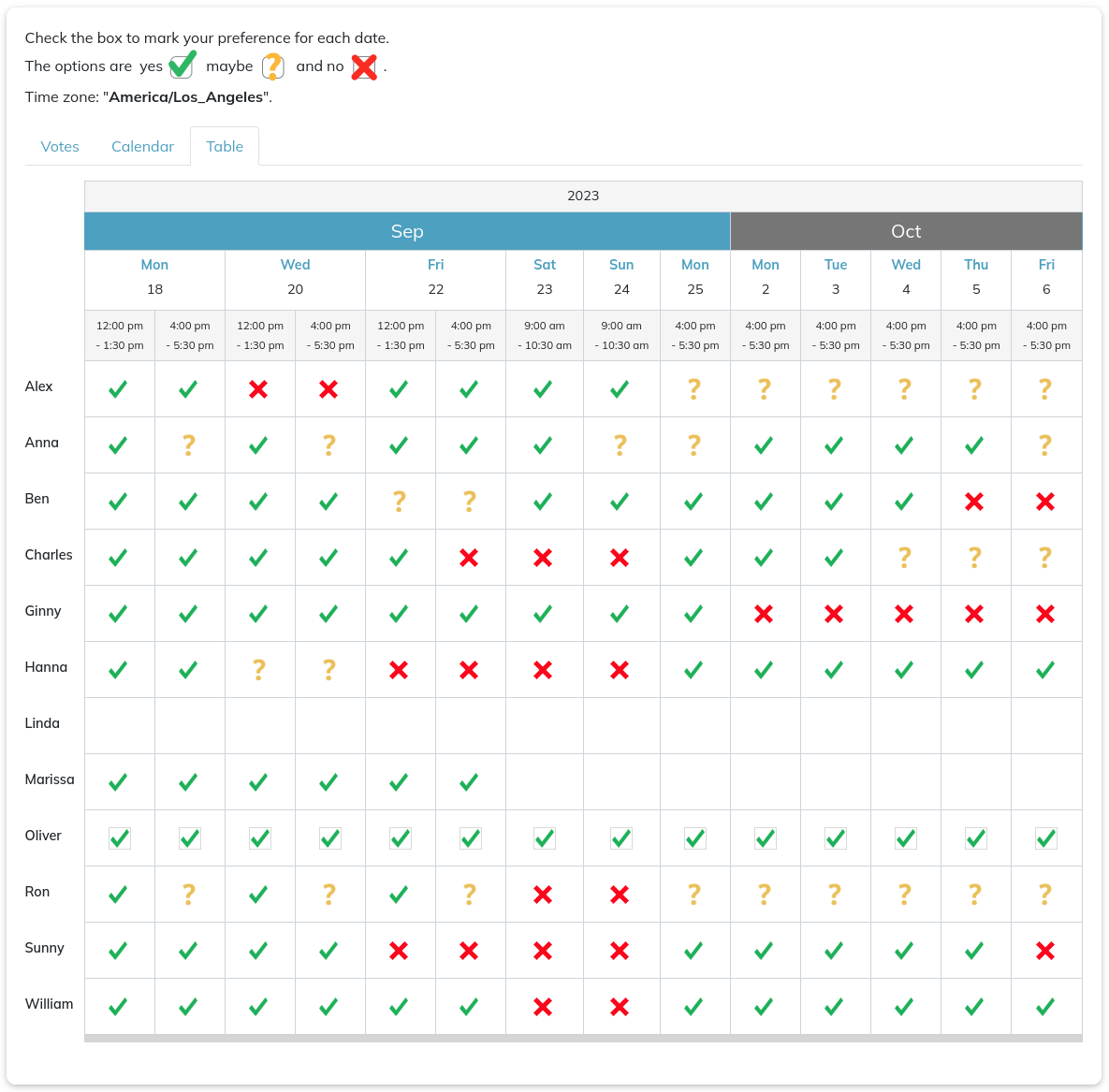 Aug 2023
Sending messages when guests are hidden
We've enabled private messages to the organizer from any guest in the poll regardless if the guest entered an email address or not. If the guest did not provide an email address then the organizer cannot reply with an email which the organizer can otherwise do.
Aug 2023
Themes
New background theme images that were added this time include holidays, robots, superheroes, food, halloween, carnival, sports and more.
Aug 2023
Default RSVP view
Do you prefer the Table view but whenever you view a poll you have to start by selecting your favorite view? On desktop, no longer. Now the view you selected last time will be remembered and made into your default view for any poll you view. You can of course still switch between the available views to get the details you need.
Jun 2023
Additional themes
We added themes for travel, choir, games, genealogy, pickleball, rock climbing, hiking, celebration, and more, as well as a few neutral backgrounds and patterns.
Apr 2023
Limit votes per date/time option
For "Yes only" polls, the organizer can limit the number of guest who can vote for a date/time option. The limit can be set individually for each date/time or the same for all options. This is a premium feature.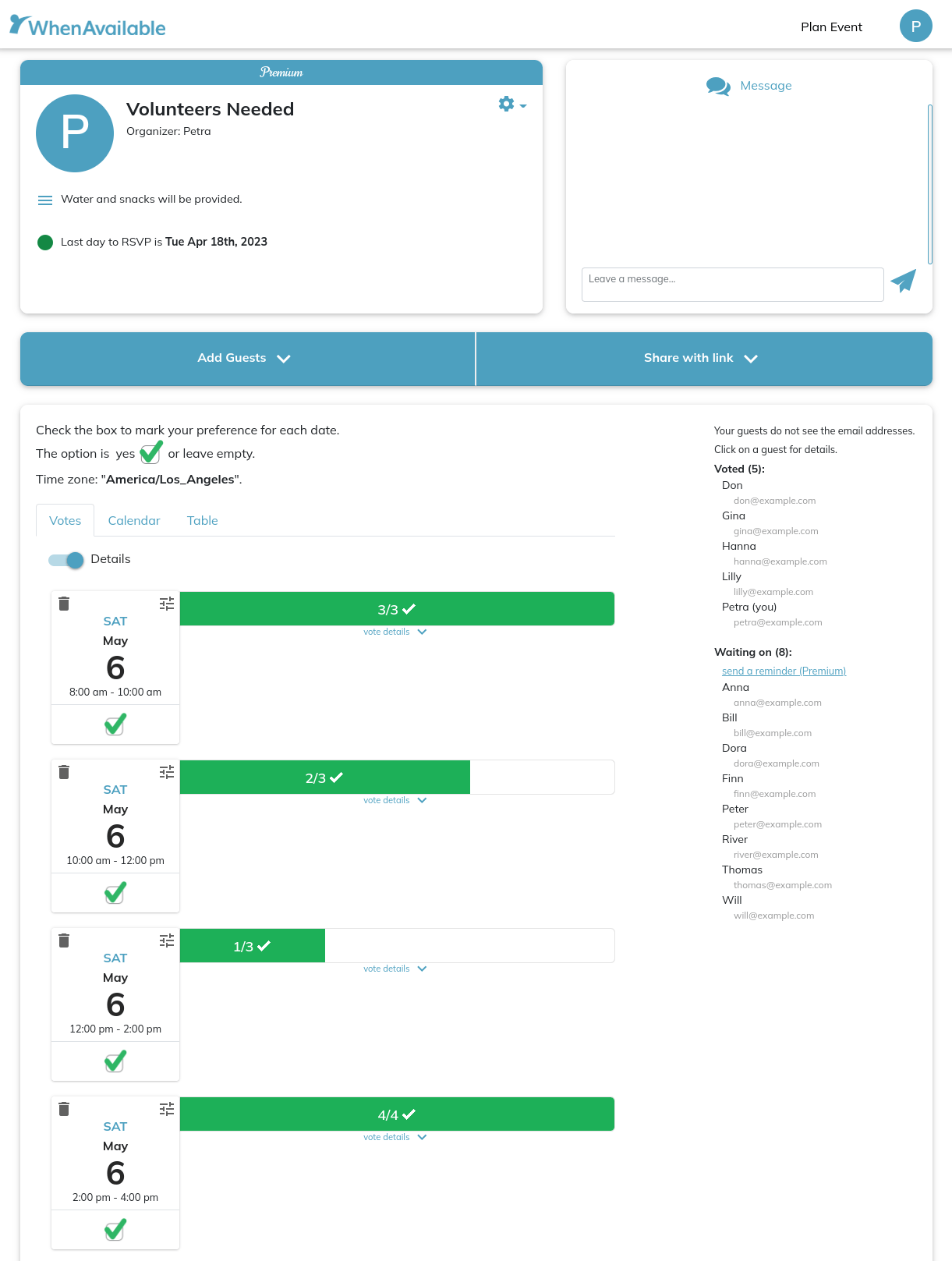 Apr 2023
Limit guest count
The organizer can limit the number of guests in a poll. This is most useful if the organizer shares a link to a poll and the guests are adding themselves to that poll. The organizer can now put a cap on how many guests can add themselves to the poll. This is a premium feature.
Apr 2023
More theme options
We added many more background templates, e.g. business & money, baby, badminton, workout, eid al-fitr, princess, and animals. See the thumbnails of all the new themes here:
Mar 2023
iCal file added to email
When the organizer picks the final date/time option for an event the email that gets sent to the guests now includes an iCal file. That makes it easier for the recipients to add the picked date/time to their calendar.
Jan 2023
New look on desktop
We've update the layout on the RSVP page for desktop to make the date options stand out more.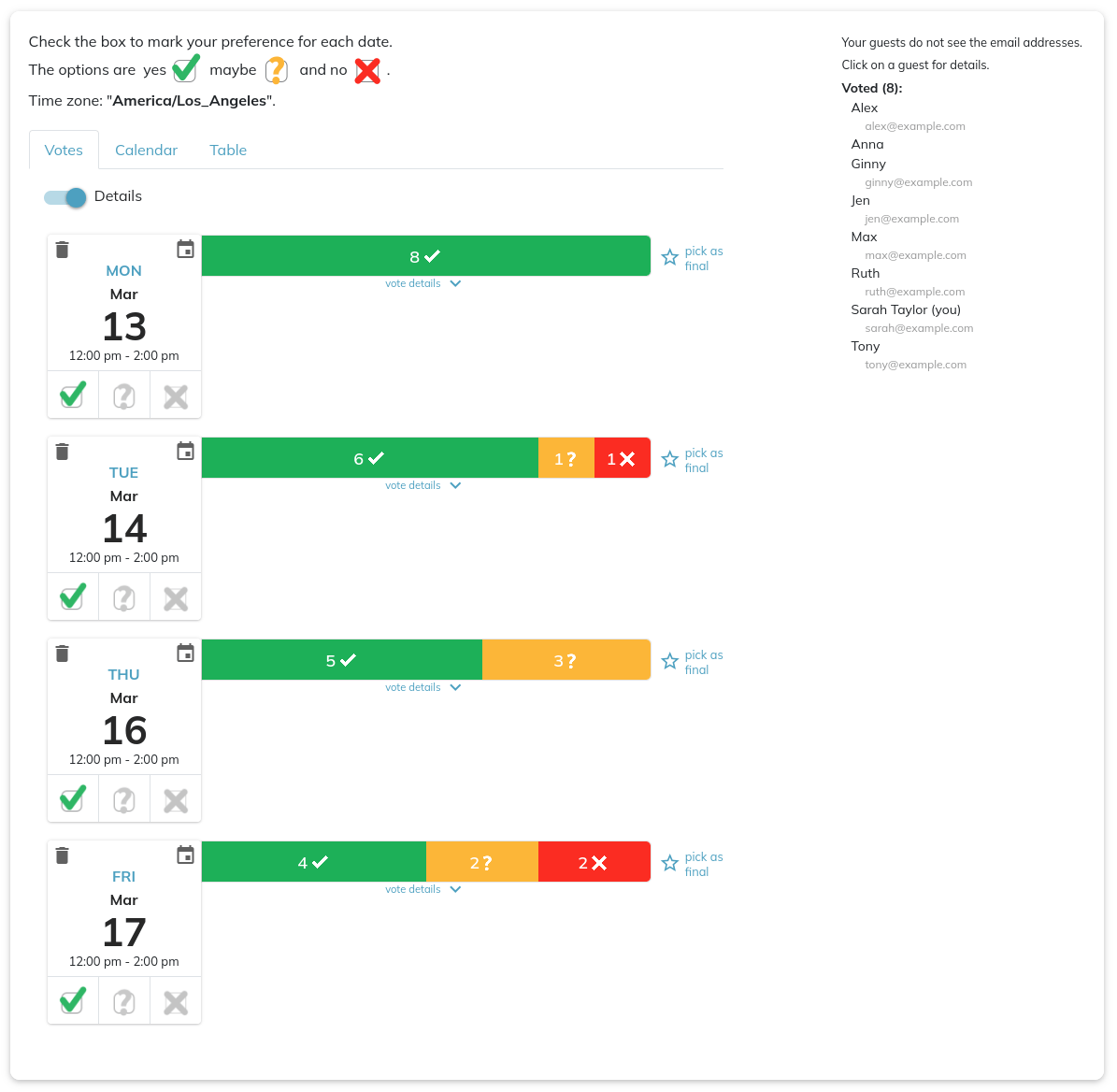 We also added a compact view which omits showing the poll results to make it easier for guests to enter their votes.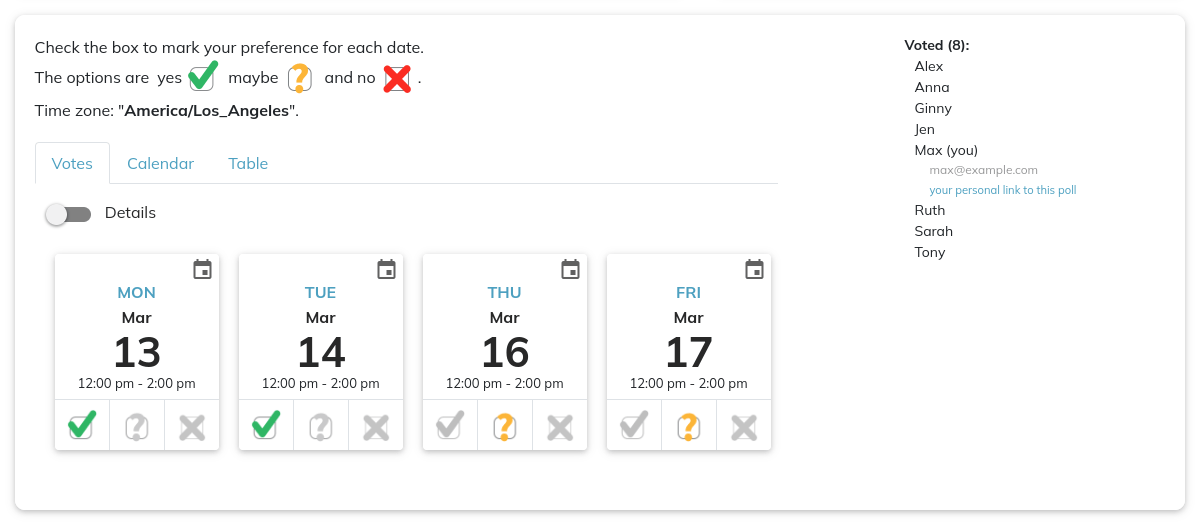 Jan 2023
Support for additional currencies
We've added support for additional currencies. When purchasing either the OneTime Premium or the Premium subscription you can now pay in U.S. Dollars (USD), Euros (EUR) or British Pounds (GBP). Of course no purchase is needed for using our basic plan.
Dec 2022
Message section and guest names
We made a minor update to the layout of the messages section and in the process we also added that the messages display how long ago they were posted.
The organizer has had the ability to change his guests' names but now the guests can do that themselves. The organizer can keep track of name changes in the change history log.
Dec 2022
More themes added
This round we added e.g. shopping, travel, volunteering, and kids themes. What theme would you like to see? Please, keep your suggestions coming!
Dec 2022
iOS and Android Updates
Few additional updates to the iOS and Android apps:
Change history logs added for the organizer's view.
Messages now include the time since they were posted.
Guests can update their display name in polls.
Nov 2022
iOS and Android Updates
We've been busy upgrading the core codebase for our iOS and Android apps. We also added a few features and fixed minor bugs. If you are the poll's organizer you can delete a message in the poll. Also, now the apps indicate if you have any unread messages in a poll: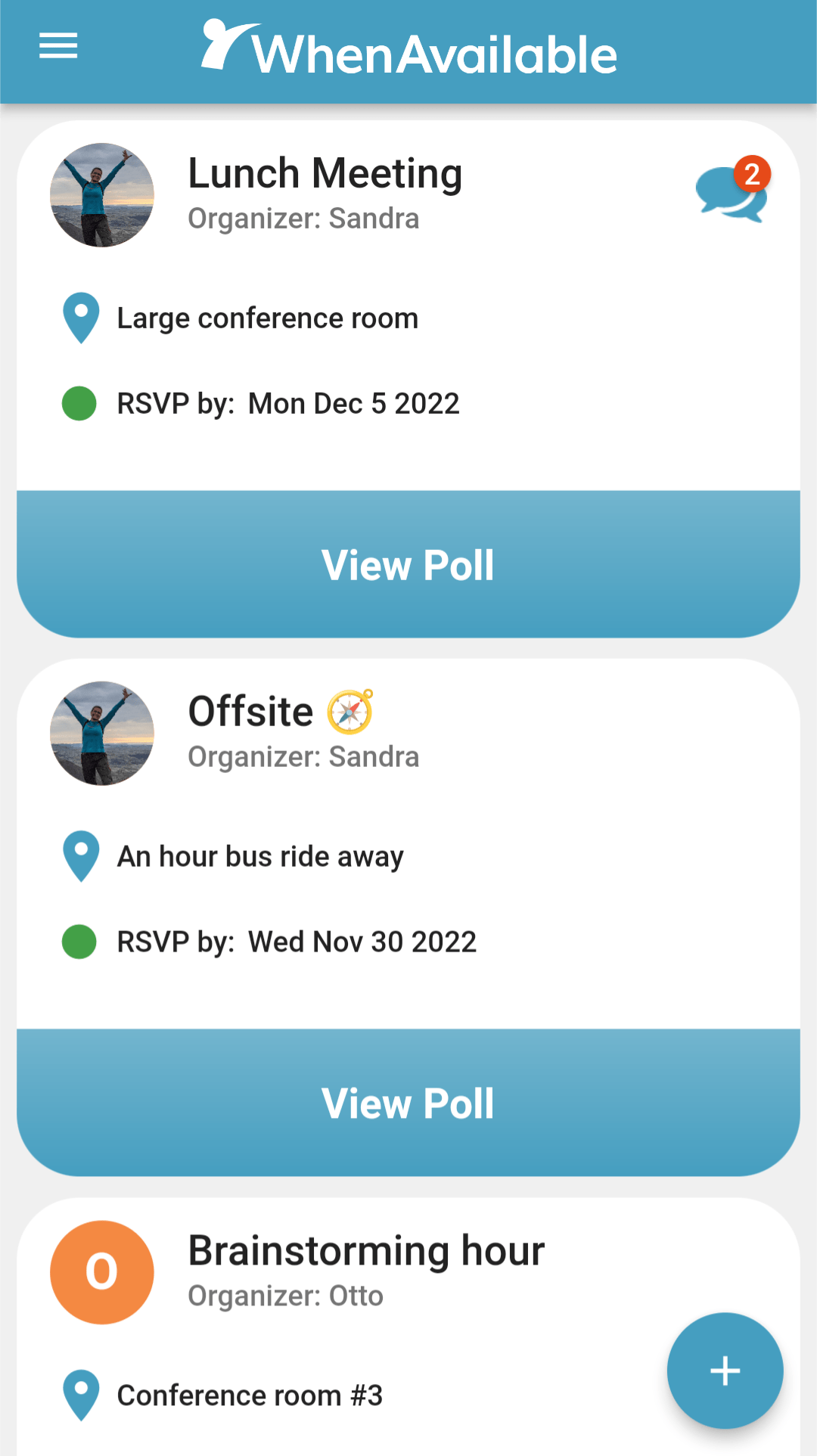 Oct 2022
Auto-reminder Settings
In addition to adjusting how far ahead of the RSVP date the auto-reminders are sent you can now choose to cancel them altogether if you don't want any reminders sent out. The auto-reminder settings feature is available in Premium polls only.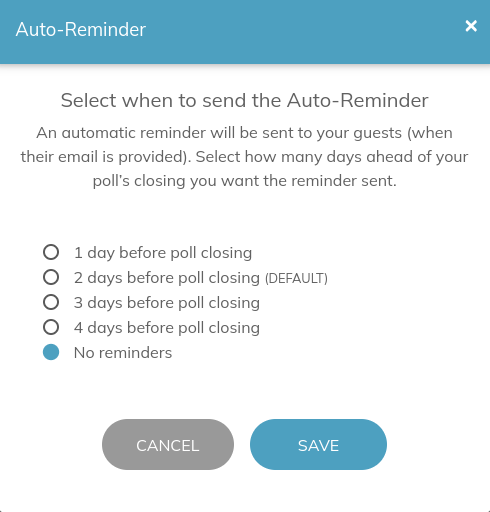 Oct 2022
Add a Personal Message
You can now add a personal message to your guests when you manually close a poll and when you re-open a poll. You can also silently both close and re-open a poll, i.e. without notifying your guests about the change.
Sep 2022
New Help Center Articles
Check out our new articles in the Help Center. There are now guides on how to use the OneTime Premium, how to save your Guest Groups, how to use a Theme in your poll, and more.
Sep 2022
Saving Guest Groups
We've made it easier for you to create a guest group. Now you can simply save the list of guests that are already in any of your polls. From the poll's settings drop-down menu select "Save Guests". The guest group will include guests from both the "Voted" and the "Waiting on" sections.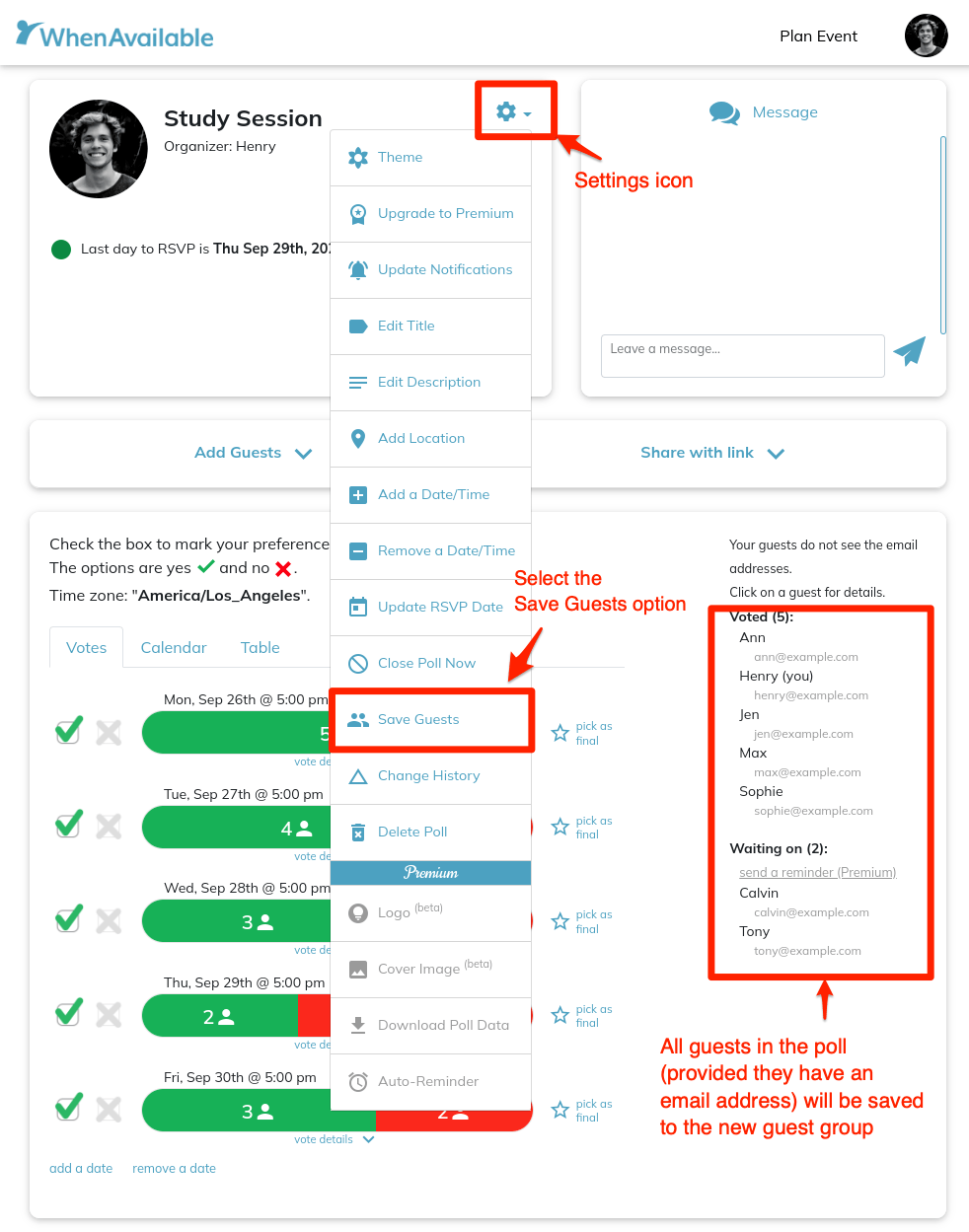 Sep 2022
Voting enabled in the Table View
Now you and your guests can enter your votes in all three view modes, i.e. the Votes Default View, the Calendar View, and now also in the Table View:
Sep 2022
Download formatted .xlsx data
With Premium polls you can now download the poll data both in a plain .csv file format or in a formatted .xlsx file format. Here is an example of a formatted .xlsx file: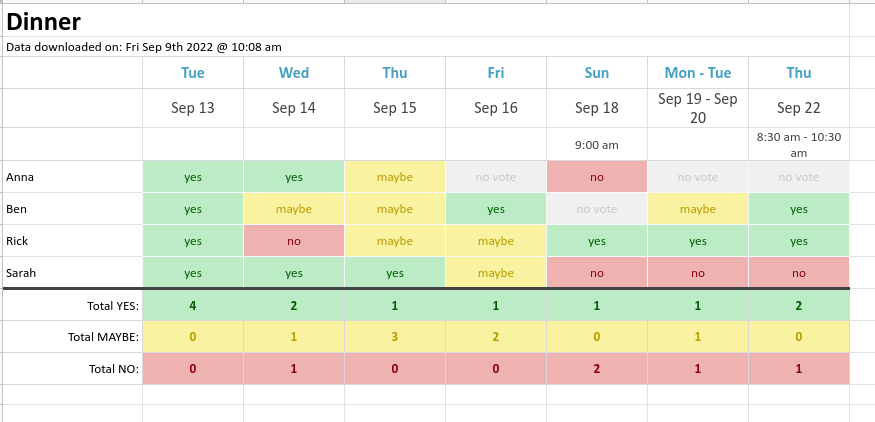 Sep 2022
Halloween, Thanksgiving and other holiday theme options!
We added a few more theme options for business, golf, and the upcoming holidays. Check out our new halloween and Thanksgiving themes, the ugly sweater theme, and our many festive themes.
Aug 2022
Better time zone handling
We've improved how we handle and display events in different time zones. If you or your guests are in a different time zone from the time zone the event is created for you can easily switch between them. The times will reflect the time zone you select in all available views, i.e. in the default, calendar, and table view.
Aug 2022
More "add to calendar" options added
You can now save the date to 7 calendar options:

Jul 2022
Organizer can delete messages in the poll
The organizer can now click on any message in the Message section of the poll and delete the message.
Jun 2022
Additional theme options!
Themes added for travel, London, Italy, Netherlands, and Paris! Also more options for gaming, gardening, sushi, magic, partying, and more. Try these when your create your next poll.
Jun 2022
Use Cases
We added a few use case examples. Check them out here.
May 2022
Cover image and logo
Many of you have asked to upload your own images and logos to feature in your polls. Now you can! For any premium poll you can now customize it with your own cover image or a logo.
Here is an example of a poll with a cover image: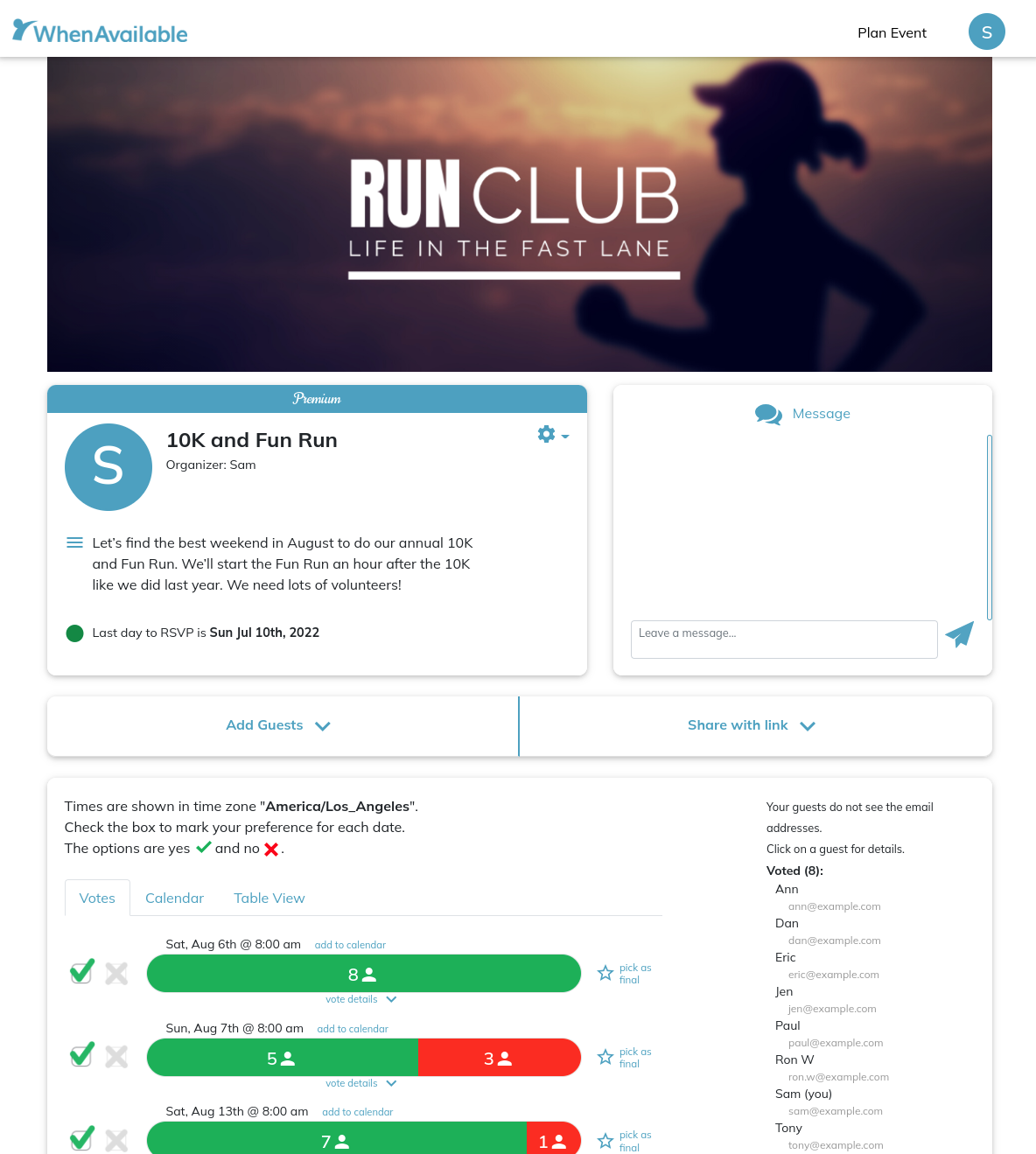 Here is an example of a poll with a custom logo: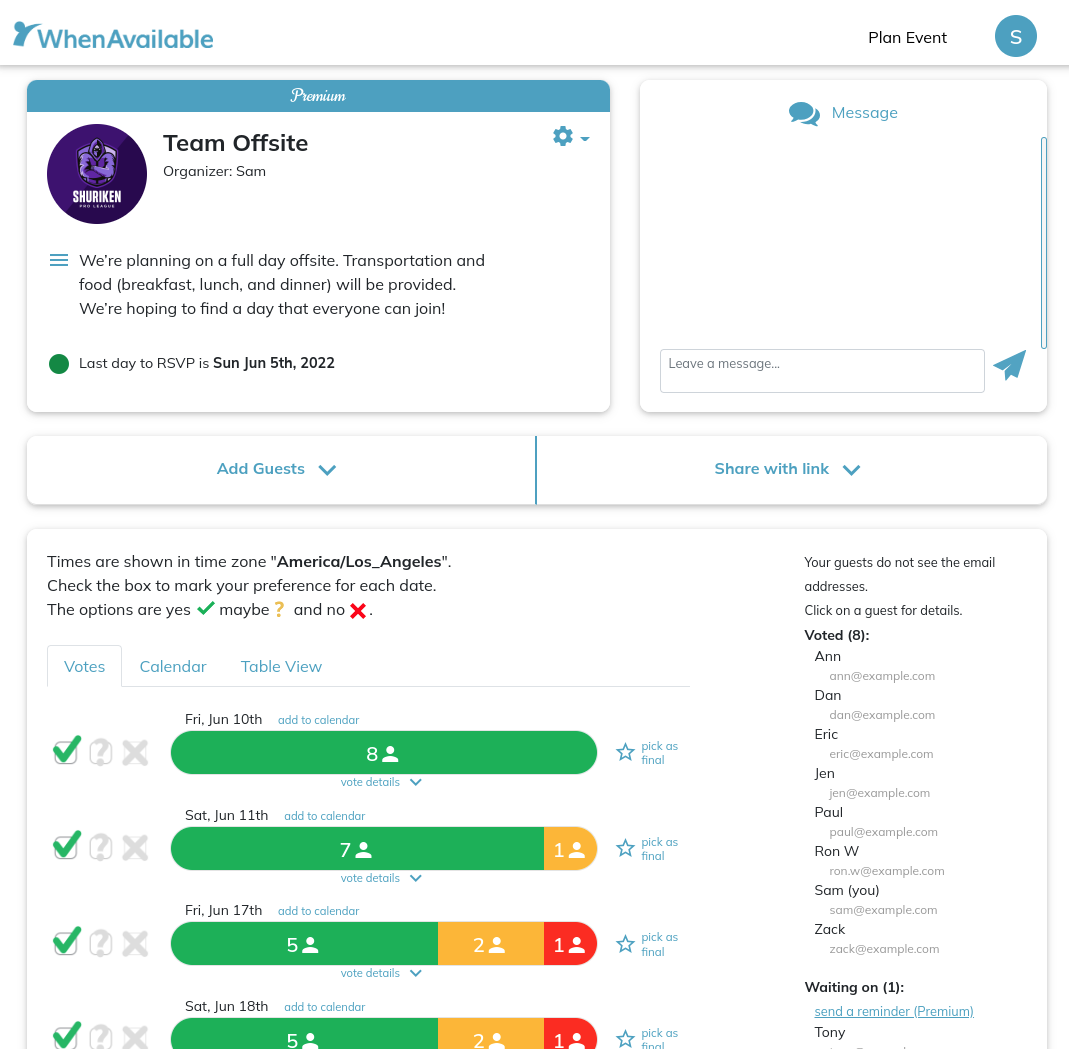 This feature is only available on the web but will soon be coming to the iOS and Android apps.
May 2022
Poll result formats
We found that the table view was such a helpful addition to the default poll view that we decided to make that available to all our users. Both organizer and the guests (unless the guest list is private) can now view the poll results in both formats.
Here is an example of the table view: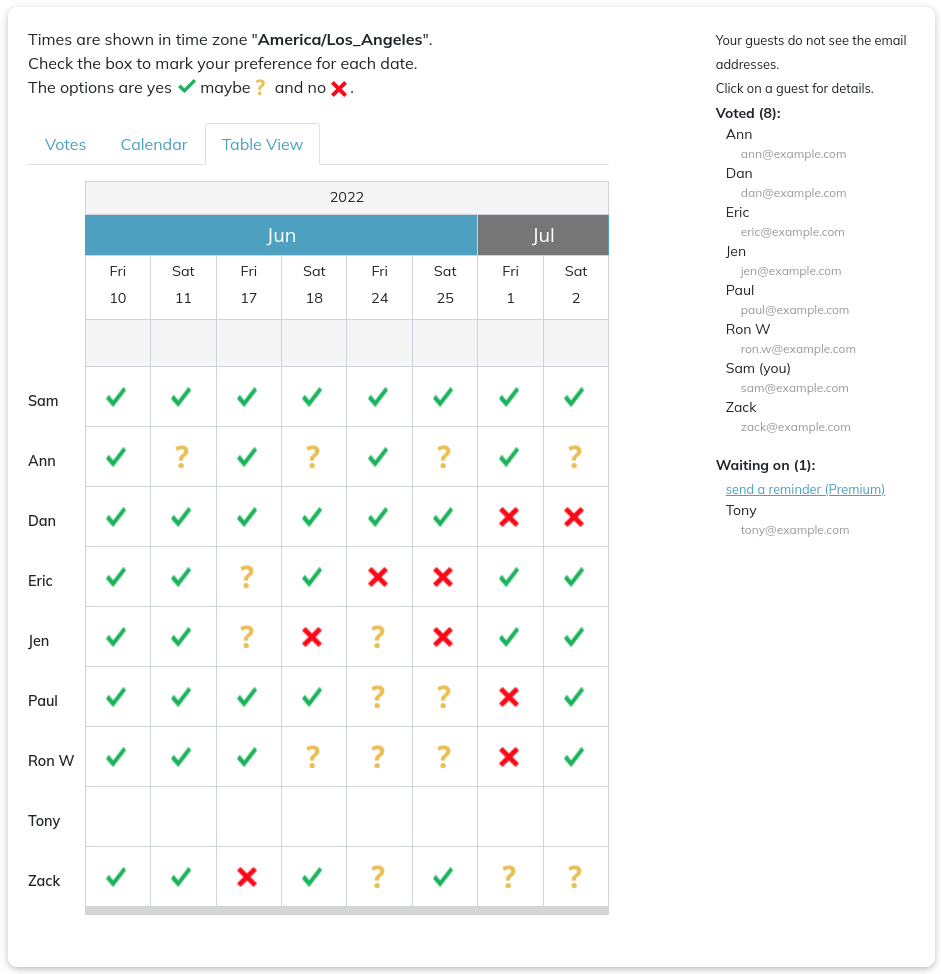 Apr 2022
More themes!
We added animal themes, painting and knitting themes, a running theme and many more. Check them out!
Apr 2022
Table View
With Premium polls, the organizer has been able to view the poll results in both the Default View and in the Table View. Now we've extended the Table View option for Premium polls to the recipients of the poll too (when the guest list is visible to other guests).
Apr 2022
YES‐MAYBE‐NO
Choose the rsvp voting options your guests have for your poll. Don't want the indecisive "maybe" responses? Only care about the actual "yes" replies? Now you can adjust the settings when you create a poll and pick YES/MAYBE/NO, YES/NO, or the YES only option.
Mar 2022
Poll change history
The poll organizer can now see the history of the main changes that have been made to the poll.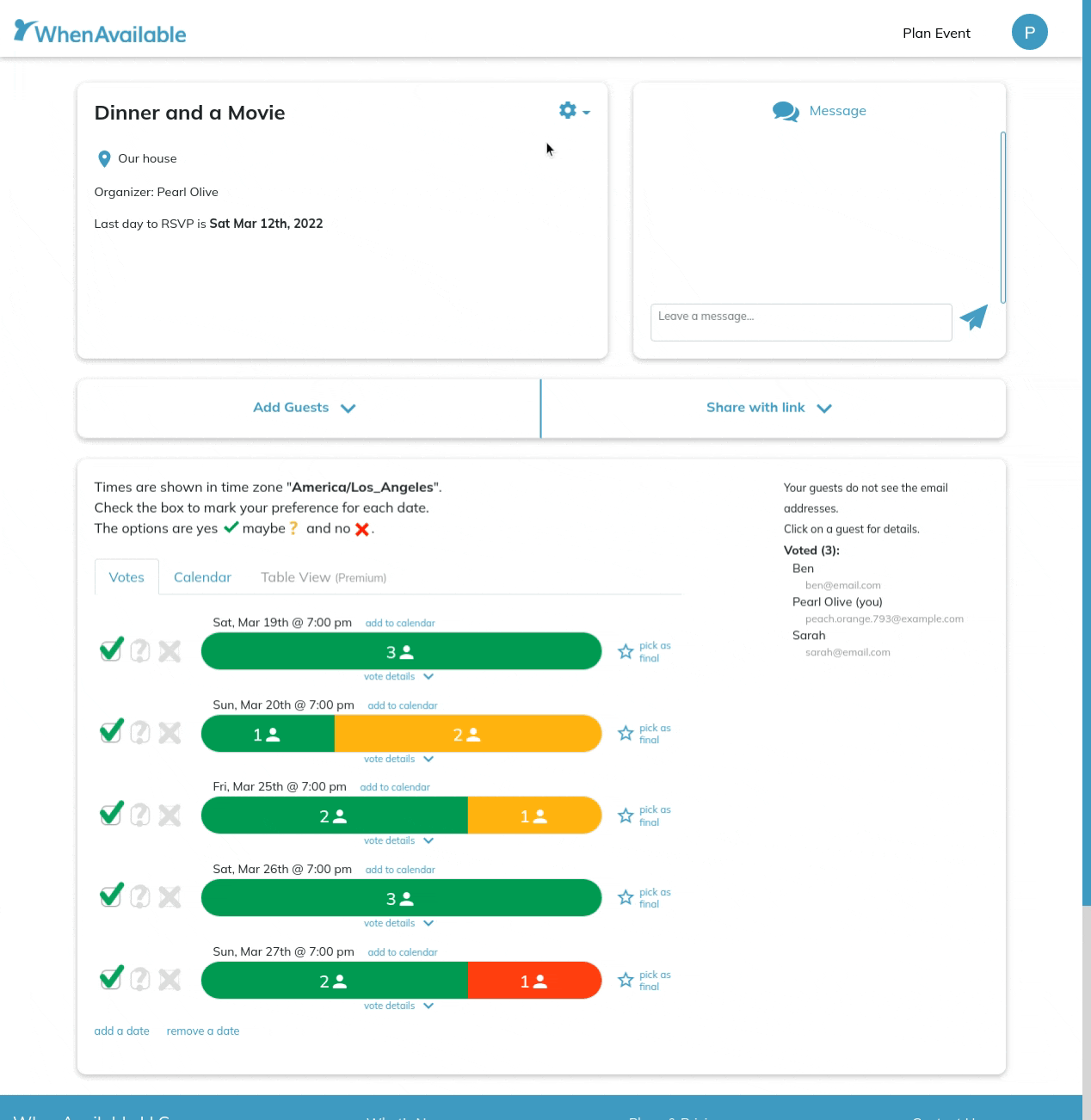 Mar 2022
More controls!
Did you want to fix that typo you made in the poll title or when entering the guest name? Well, now you have the power to do so! From the poll settings menu, you can choose to update the poll title and by clicking on a guest name, you'll see an option to edit it.
Feb 2022
24-hour time format & start of week Monday
We are listening to your feedback, and have now added a 24-hour time format! In the calendar view, you can choose between a 12-hour (1:00 PM) and a 24-hour (13:00) time format.
Does your week start on a Sunday or a Monday? Now you can simply switch the calendar between starting the week on a Sunday or a Monday, depending on your preference. Also, if you are so inclined, you can choose to include the calendar week number as well.
We hope that the additional calendar customization and time format setting will make your planning easier!
Feb 2022
Themes for environment, science, podcast, and more
Make your poll stand out by using one of our many themes. We recently added new themes for environment, science, dessert, podcast, surfing, pool, spring, and more. Our theme selection continues to grow as we add more and more themes from your suggestions.
Jan 2022
One Click Voting
We've simplified the voting by eliminating the popup dialog when voting. Now it is a one click action to enter a vote for a specific date/time suggestion.
On a desktop/laptop this is how voting looks now: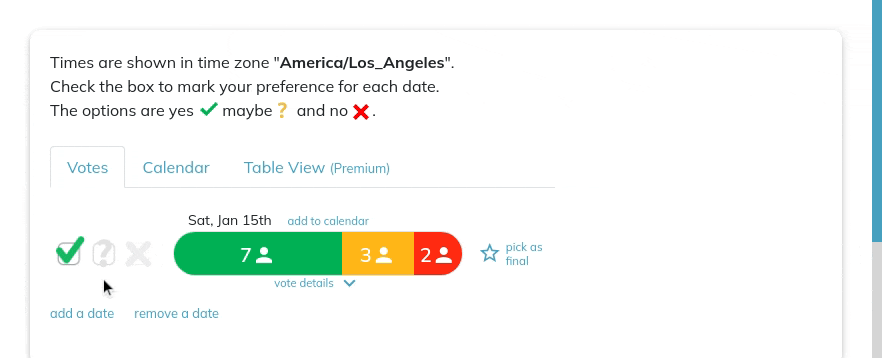 On a mobile browser (mobile app updates coming soon) the updated UI makes it super easy to vote: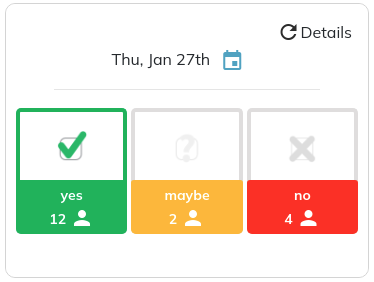 Dec 2021
Search for the Right Theme
With our growing theme selection we wanted to make it easier for you to find the right theme for your event. We added a basic search so that now you can type in a keyword and we'll match it to our available templates. Remember that if you don't find the theme you are looking for, let us know what we are missing and we'll consider including it in our next theme upgrade.
Dec 2021
New Themes for Food, Outdoor activity, Art, and more.
Planning a hike or a camping trip? A photo shoot or a family reunion? An art & wine night with friends? We have themes for that! We've also added themes for science, xmas, cheerleading and more.
Nov 2021
Delightful Emails with Themes
When you add a theme to your poll your emails are now also decorated with the theme. Pick one of our many theme options to use with your next poll and see how delightful the emails (and of course the poll too!) look.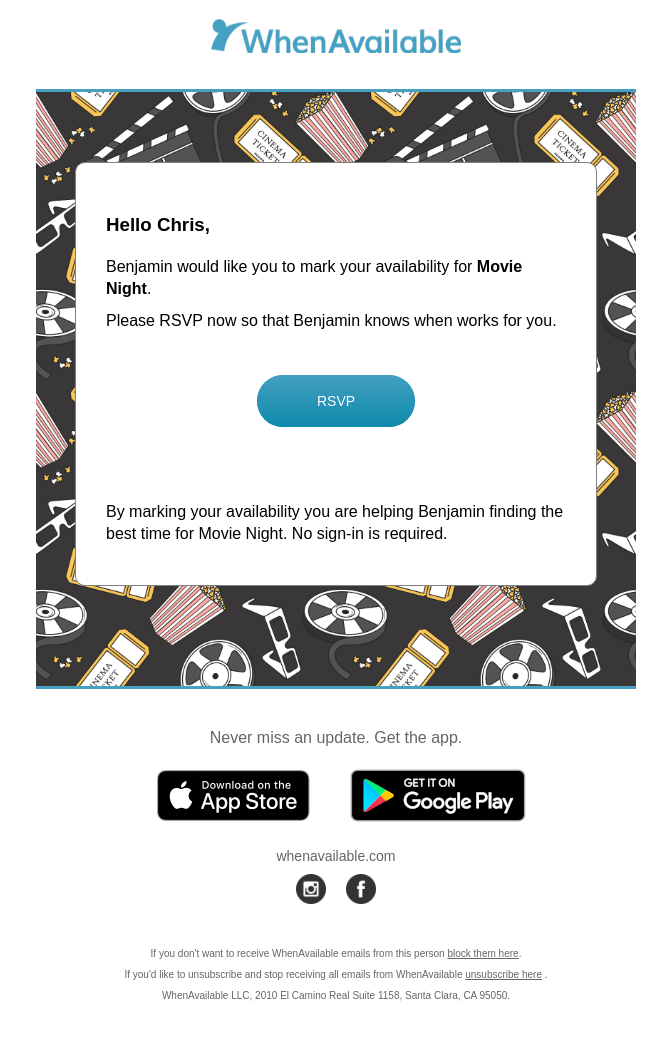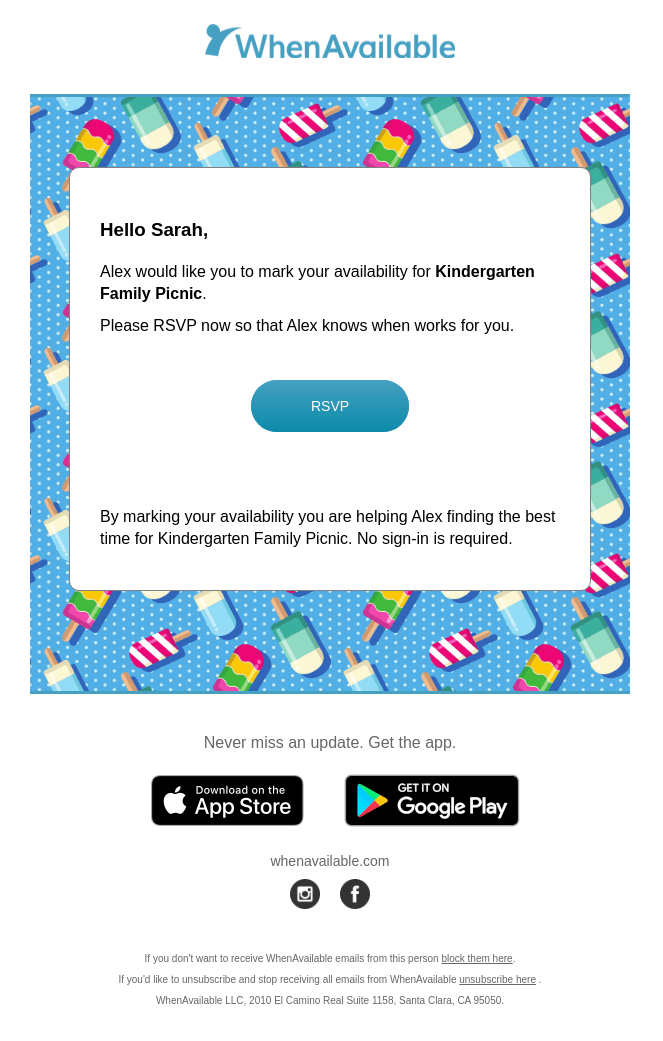 Nov 2021
Adding Guests Upgrade
The section for adding guests to your poll has received a facelift. We've separated the two ways of adding guests to your poll to make the options clearer. Either you share the poll with a general link (the shareable link) and your guests add themselves to your poll or you enter the guests yourself in the poll and each guest receives a unique link in an email. We've added more text within the sections for each method to explain how this works.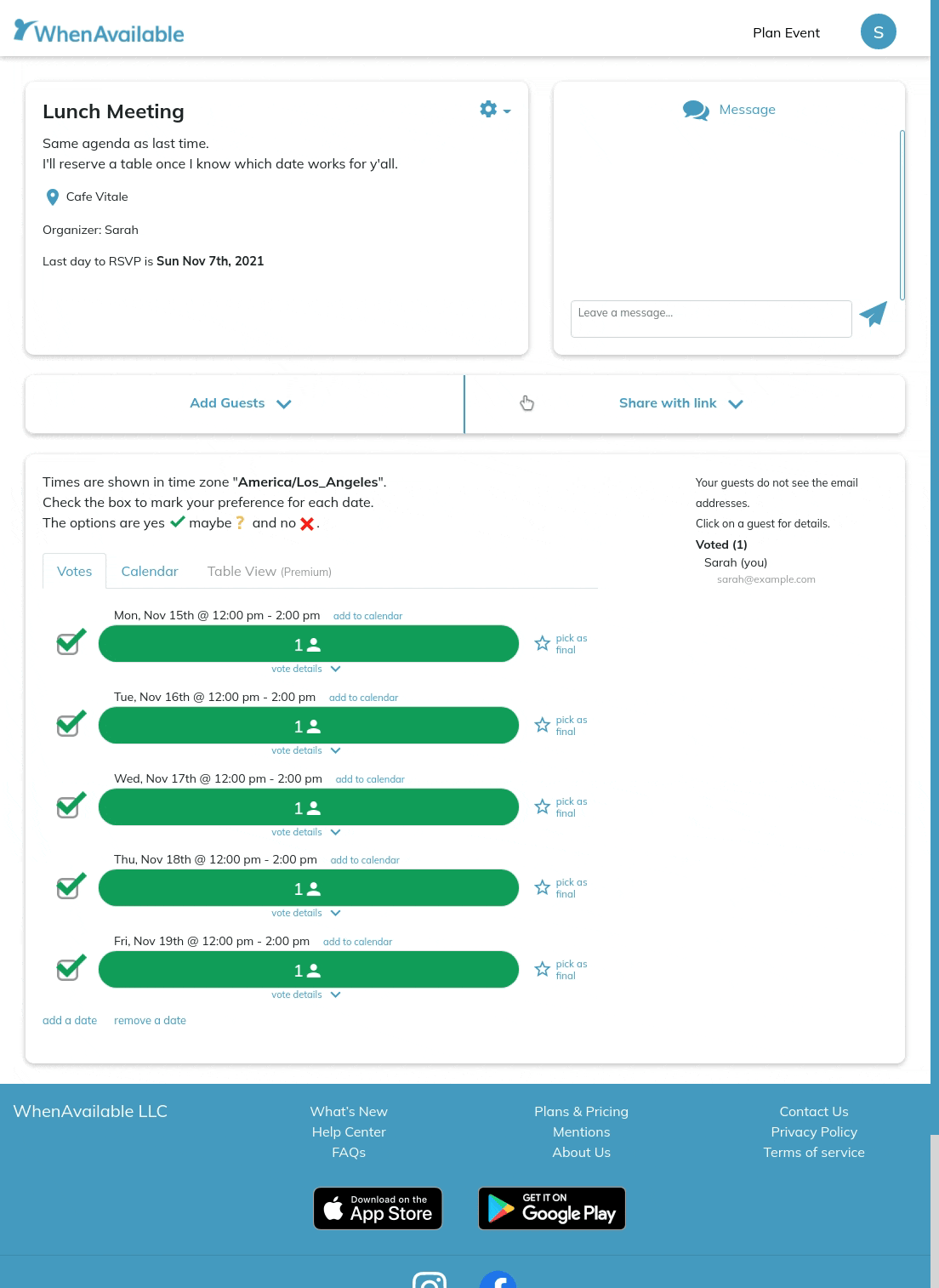 Oct 2021
Search Contacts in iOS and Android Apps
We improved the performance and UI for when you add guests to your poll in both the iOS and Android apps. You can now search your contacts for quicker selection. If you haven't already, check out our (ads free!) app on the App Store or Google Play.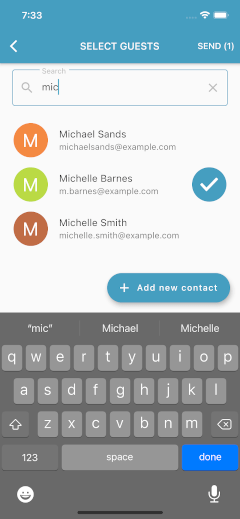 Oct 2021
More background templates!
We've added more themes to go with your polls. Planning a parent meeting for your team? Check out our many sports-themed templates. Organizing a dog owner meetup in the park? Use one of our cute dog-themed backgrounds. Are you a city planner or a project leader? We've got templates to cover all kinds of group meetings, both for business or school as well as for social gatherings. Our latest release includes also pride, cowboy, birthday, decorative, and some seasonal themes.
Oct 2021
WhenAvailable Mentions on the Web
Oct 2021
Pick Final Date
When your guests have voted in your poll you can mark the date you pick for your event. Your guests will then be notified of the date selection. Our users have mentioned that they've had a hard time finding where to pick the final date so we've moved it to a better location to the right of the votes: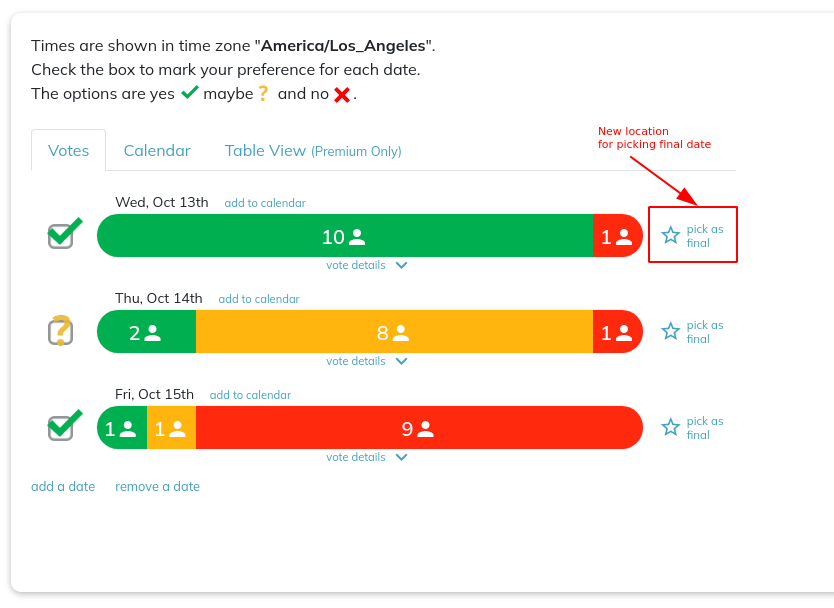 Sep 2021
New Help Center!
We've started adding Help Center articles with step-by-step guides as well as information on various things that WhenAvailable has to offer. We'll be adding more guides along the way, but check out what we created already.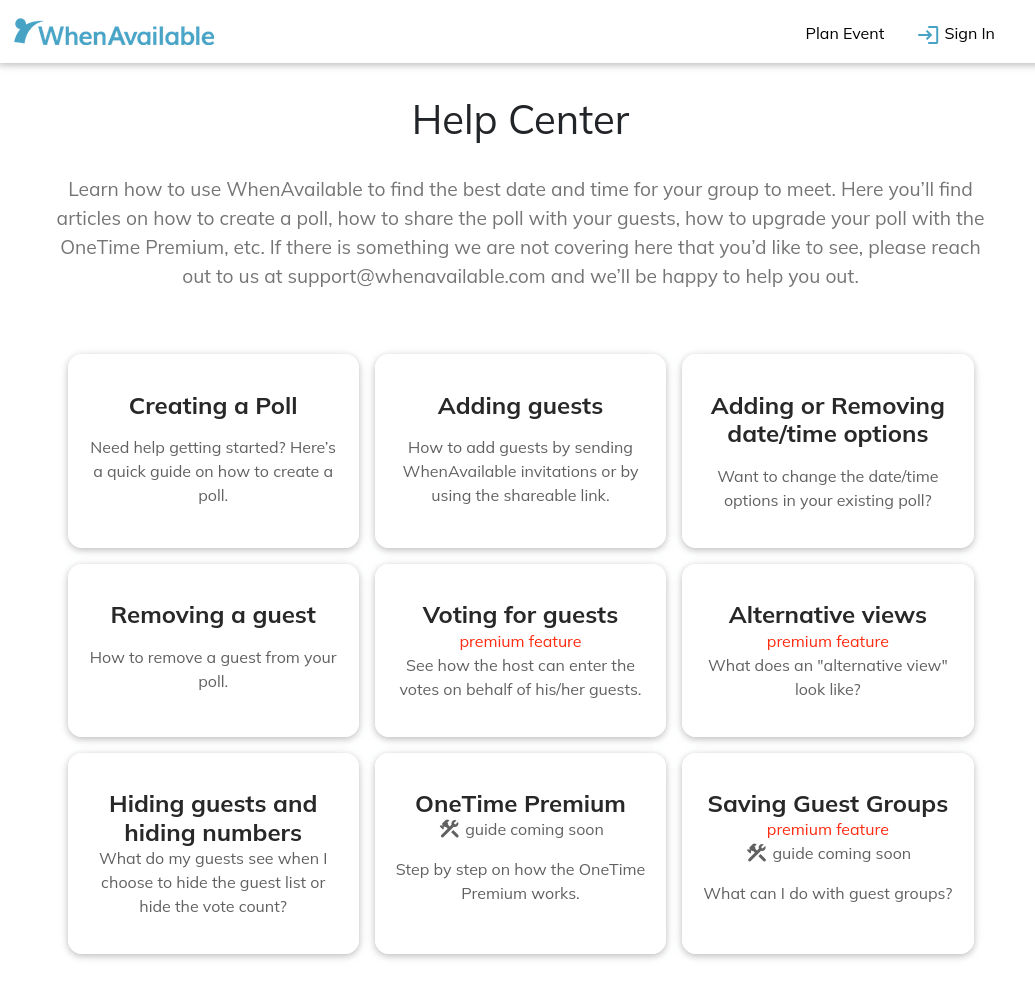 Sep 2021
Better Vote Details
We've improved how you can access and view the vote details in your poll. Each date/time option has a vote details link which reveals how your guests voted for that option. You can view the vote details simultaneously for multiple date/time options. Your guests can also view the vote details unless you have opted to hide the guest list.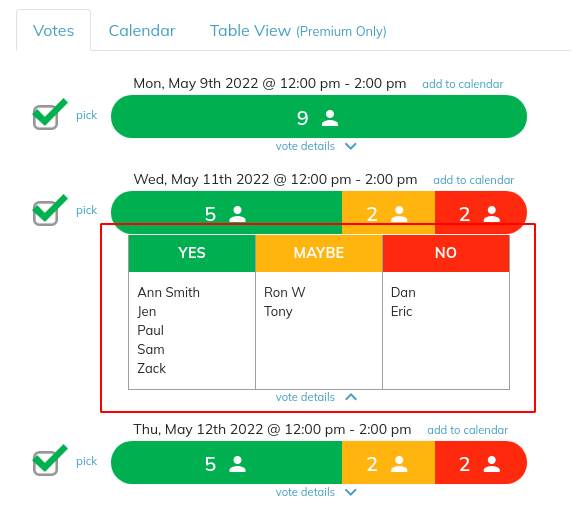 Aug 2021
Download Poll Data
We've added an option for premium polls to download the poll data in a CSV format. This enables the organizer to download the poll data, i.e. how the guests voted for each date/time suggestion, and import it to a spreadsheet application. Any poll can be upgraded to a premium poll either with the OneTime Premium upgrade or with the Premium subscription. Downloading the poll data is currently available on the web only.
Aug 2021
More Themes: Yoga, chess, disco, horses, etc
We are listening to your theme suggestions! Look what we just added:
Aug 2021
Increased privacy for polls with a hidden guest list
If the organizer opted to hide the guest list then only s/he can add a public chat message in the poll. However, the guests (with verified email) will be able to send private messages to the organizer if the organizer has that option enabled.
June 2021
Better event details
We've learned from your feedback that the event details field did not allow for enough content. We've improved on that so now you can include all the details you want!
Did you miss something in your event details and you've already shared the poll? Don't worry! Starting from our latest release, you can also edit the details anytime after you create the poll.
June 2021
New Summer Themes
We've been listening to your theme suggestions and added more summer and food related selections. Find when your friends are available for a bbq or a picnic with a beautiful WhenAvailable poll.
May 2021
Themes, Themes, Themes!
We just added new themes for biking, tennis, fishing, music, and more. Keep your suggestions for additional themes coming!
May 2021
Calendar view for your replies
Now your poll will also display the suggested dates in a calendar view. The calendar view is available to you both as the organizer and as the guest.
The calendar view allows you to import your Google Calendar which makes it easier to see at a glance which dates work best for you.
You can enter your vote for any particular date that is suggested from the calendar view and, if you are the organizer, you can add additional dates to your poll right there from the calendar.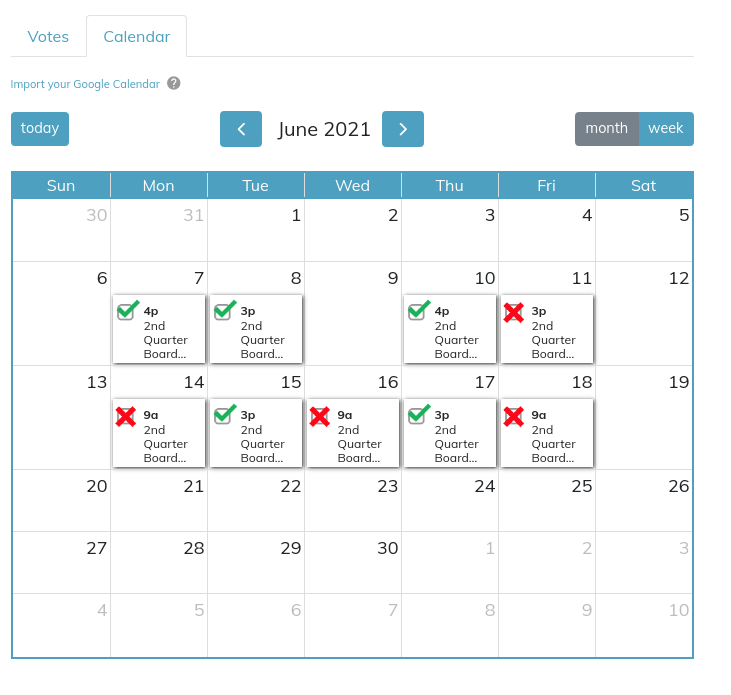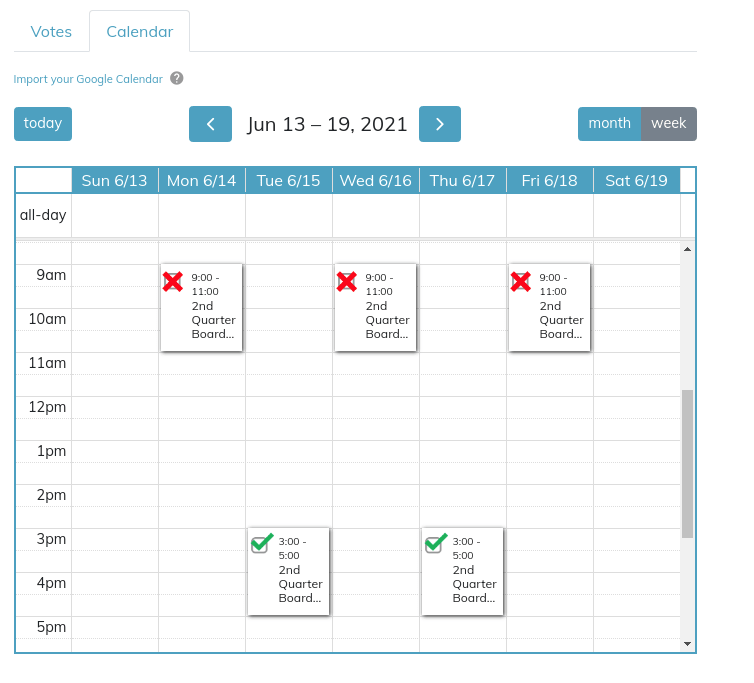 Apr 2021
More fun Themes!
Check out the new themes for golf, graduation, camping, kids play, and more:
Apr 2021
Suggest multiple additional days in your existing poll
We've made it easier for users to add multiple additional days to an existing poll. Add multiple dates and then choose whether or not to notify the guests who have already voted, about the additional days.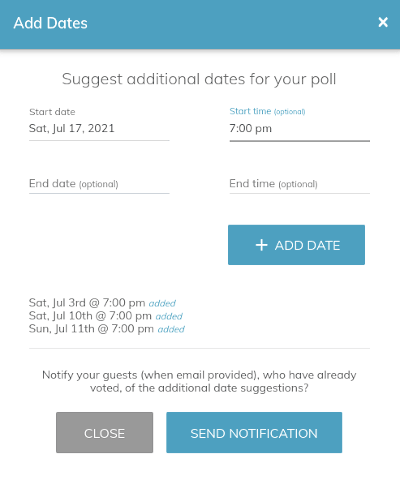 Mar 2021
Same time for multiple dates
Add the same time slot to multiple, selectable, dates when creating a poll. Users can now select which dates to apply the same time to which makes it easier to include multiple, repeated, time options in the poll.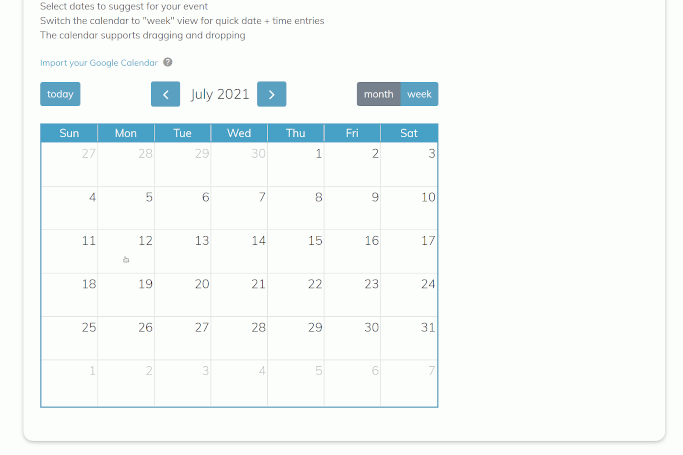 Mar 2021
New additional Themes
Thank you all for your theme suggestions—keep them coming! We've added a few more options based on your feedback like music, summer, and ocean:
Jan 2021
Outlook option added to save to calendar
You can now save the date to your Google calendar, Yahoo calendar, iCal, and Outlook

Jan 2021
More themes
Our latest theme additions, café, bridal shower, solid backgrounds, movie, and more:
Dec 2020
Check out our new promo videos!
Make fun plans with your friends and find when works best for everyone with WhenAvailable.
Add character to your poll using one of our many themes.
Real-time polling—watch your poll as the votes come in, page reloading is history.
Dec 2020
Camping, beach trip, gaming and more fun themes!
Our theme concept has been well received, so we are adding more options. We plan to gradually add more variety and welcome your input!
Dec 2020
Sign-In with Apple added
Apple users, we are here for you too! We've now added the option to sign-in with Apple so now users can choose between signing-in with email & password, Google, or Apple.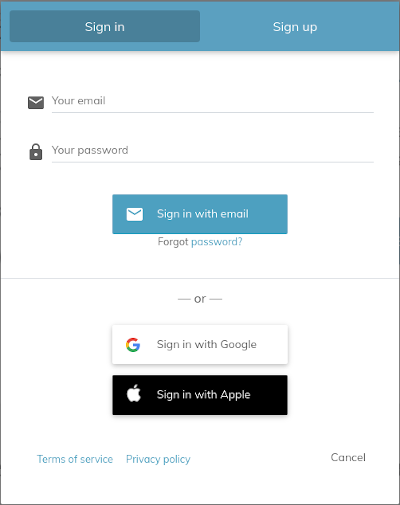 Nov 2020
Introducing Themes!
How about adding some character to you poll? Are you planning a holiday brunch, birthday party, bookclub meeting, or a game night? Jazz up your poll and find when works best for your friends with WhenAvailable. We'll be adding more themes as we go and welcome your ideas.
Nov 2020
Stripe portal to manage your subscription
Stripe recently made a customer portal available which we are now enabling for our subscribers. From the "My Profile" page you can now manage your Premium subscription, like updating your credit card, or canceling the subscription, directly in the portal.
Aug 2020
FAQ added
We've compiled a FAQs list to help answer the most common questions we receive. However, please feel free to reach out to us if these don't answer your questions or you need any clarification. We are here to help.
Jun 2020
Real-time Polls
We are so excited to announce that we upgraded our system so that your polls always reflect real-time data. This applies to everything on the poll reply page, from the poll details, votes, and chat. Watch the votes come in as they happen, or chat with your guests in real time. Reloading the page is now history!
As this is a major milestone we decided to make this the beginning of our "What's New" page.